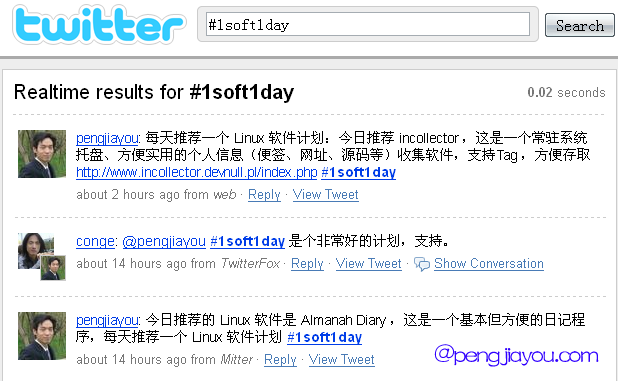 Hello, guys, I started a program recently on Twitter since Mar. 21st this month called "1 Linux Software 1 Day", which is aim to recommend ONE linux software ONE day to the CHINESE linux users. I think this is a good idea to introduce others a perfect linux application they would like so as to promote Linux as a lot of people still think there's not as many software as Windows or Mac (I think a lot of people refuse Linux just because of this).
I read articles on tuxmachines.org almost everyday, and a lot of applications are introduced, but I don't have enough time and energy to translate or forward them on my blog, but Twitter is a good place to do such things, it's convenient engouth for me.
At very first, I just tweeted in Twitterfox the software I like in Chinese language, but I found it's hard to be archived every software that I recommended, and other people who didn't follow me can hardly have a chance to know them too, so I added every tweet a tag "1soft1day", this tag is currently unique, so, when you try to search this tag on Twitter Seach, you can get all softwares I recommended before.
Well, now, I brought this "1 Linux App 1 Day Program" to English-speaking Linux user too, with another tag "1app1day", when you type this tag name and search on Twitter, you will be able to see all of my recommended software, and all  in English. You can also visit this url directly: http://search.twitter.com/search?q=%231app1day
In general, please seach #1soft1day for Chinese, well, #1app1day for English. Please help me and keep these two tags unique (you'd better use another tag if you have related program), and, please don't post this tag in your tweets (so there's no waste)
I suggest you follow me @pengjiayou on Twitter, so that you're be able to know what I recommend at an early time, and, to recommend me the software that you like by @ replies. Thanks.