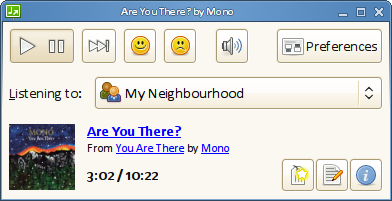 Last Exit is streaming media player for GNOME as a Last.fm client for your Linux desktop. With Last Exit, you are able to listen the songs you shared in last.fm easily.
The latest stable version is 6, you can download it here.
To build Last Exit from the source code, you will need:
Or, you can check out Last Exit from GNOME SVN:
svn co http://svn.gnome.org/svn/last-exit/trunk last-exit
With exciting new features: First, your Last.FM account info is now stored in gnome-keyring.
Second, the oft-requested duration info is included for testing.
Teaser screenshot to your right.