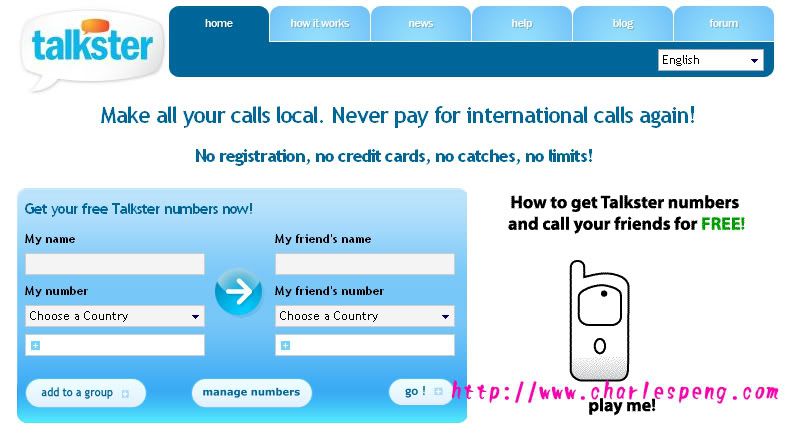 Talkster's Free World Dialing™ gives you an easy way to make long distance calls, international calls and conference calls with up to 5 friends, all FOR FREE. With Talkster's Free World Dialing there is never any charge for making your long distance or international calls from the ever growing list of countries that Talkster offers around the globe. You just tell us who you want to call and at what number you want to ring them, and Talkster will provide you with a local number to dial to initiate the call. You pay only for a local call (if you are charged for local calls by your provider).
Is Talkster free of charge? Does it need a creditcard? How dows it work?
Nope, never. Unlike other services out there, there will never be a credit card required to use Talkster's Free World Dialing. We don't charge you any money to use the Talkster service, so we have no need for your credit card number.
We create local numbers for you to use to make long distance, international, and group calls. Type in your name and number and your friend's name and number, and we'll create a local number for you to call your friend(s) on. You tell us who you want to call and what number you want to call them on. We give you local Talkster numbers for your long distance, international and group contacts, which you can call anytime you want to talk for FREE. In exchange for free calling worldwide, we simply ask that you listen to a short audio advertisement that in turn covers the cost of your call. The ads we ask you to listen to may contain special offers or coupons that you can use right from your mobile phone – making the Talkster service even more valuable to you.
How to make calls from a computer?
Step 1
On the form on the Home Page, enter your name and phone number you will make the call from, along with the name and number of the person you want to call. Click on Go to start.
Step 2
Talkster will give you and your friend each a local Talkster number that you can use whenever you want to call each other. Save this number in your phone book (if you want). Your local numbers will also be sent to you both by SMS (in case you forget them!). Click here to see the list of Talkster countries currently available.
Step 3
Call the Talkster number for your friend. When your friend answers, tell them to hang up and call their local Talkster number for you that they got in the SMS or that they see on their phones caller display. You stay on the line – don't hang up! When your friend dials back using their Talkster number, youll be connected and can talk for FREE as much as you want!
Call a group!
Click on Add someone else to add up to 5 friends for a group call. Now you can reach a whole group with one single phone number, all for FREE!
For detailed information to make calls from phone or with an SMS, plase visit here.
With Talkster, you can even Make FREE International Calls to Any Phone from Google Talk, here is the howto. I think it will be very useful because I am a international trading salesman, I have to make a lot of international calls a month, with Talkster, I will be able to call all my customs free of charge. Wow…
Talkster: http://www.talkster.com/Default.aspx