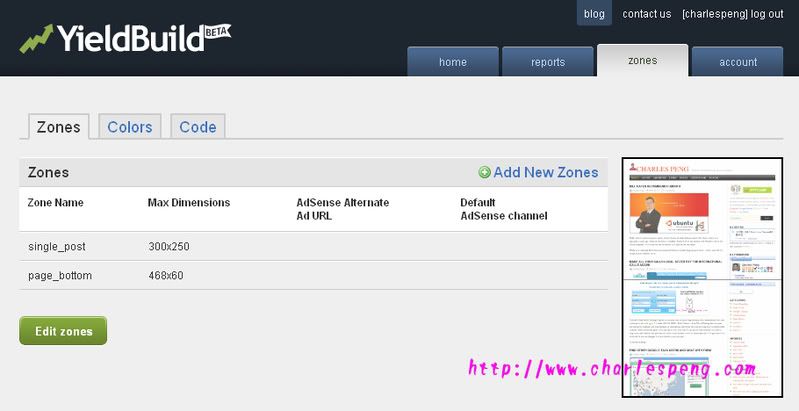 YieldBuild is an online tool to optimize the advertisement units of your website or blog. It aims to help web publisher make more money on their existing ads. I received their invitation and joined in this morning, and added YieldBuild ads code immediately as soon as possible.
YieldBuild Publishers Solution is the industry's finest ad network management, reporting and aesthetic optimization solution. YieldBuild helps websites maximize revenue-generating potential from online advertising in two different ways. First, it optimizes an ad's visual characteristics (background color, border color and style, position on the page, and ad layout) based on each page's specific traffic pattern. Second, it helps manage your ad networks by determining which ad will perform best in each placement at any given time. Additionally, YieldBuild offers consolidated reporting so that you can monitor your performance and manage your inventory allocation across your ad networks.
YieldBuild installs easily. It works with your existing ad network accounts, provides comprehensive reporting, and continuously optimizes without guesswork and ongoing maintenance. YieldBuild clients have seen their revenue increase as much as 200 percent.
YeildBuild is able to automatically optimize your site's ad spots with the most profitable combination of ad layout, style, and network. The system continually tests alternative configurations of layouts, networks, and color as it looks for the highest performing ones. It takes about 100,000 impressions to train the system. As users become unresponsive to the ads, the system switches to a more profitable combination of layout and networks.
I've installed YieldBuild in my blog, it works fine, it automactically changes my Google Adsense ads units colors and layouts, or displays text ads or picture ads randomly. So if you are interested in it, don't be hesitate to have a try. (My YieldBuild account login name is: charlespeng)
Some other Ad Optimize Services similar to YieldBuild includ:
I am now registering PubMatic 🙂